FIRST ANNUAL BIG•YEAR
Starts January 2012
JOIN US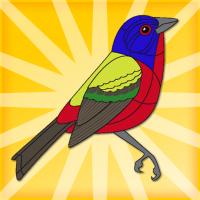 Download BirdBeat™ Birder's iField Notebook™  – Songbird Edition for iPhone, iPod Touch and iPad from iTunes, register and send us your first iField Sketch™ to participate / compete in BirdBeat's first ever Big•Year event.
Let's set a code of honor and see who can log the most verified sightings based upon their own BirdBeat™ iField Sketches created and used to capture characteristics, relevant field data and personal recollections of their bird sightings in 2012.
Who can resist a good sport?  Join us, and let's have some fun!
Monthly and Overall Winners
Entry includes lifetime access to "members only" information and benefits
Preformatted templates
Capture color and pattern markings in minutes
Record environmental and behavioral data in seconds
Personal iField Notebook™ saves user's sketches and data
Share via email and Facebook
Special BirdBeat™ Big•Year coverage, forum and BirdBeat™ community ID assistance
Download app, register on BirdBeat.com, then email your iField Sketch™ entry to MyBigYear@BirdBeat.com